Featuring Masimo SET®Measure-through Motion and Low Perfusion™ pulse oximetry with upgradeable rainbow SET™ technology
In a study comparing three pulse oximetry technologies, Masimo SET®demonstrated the highest sensitivity and specificity in identifying desaturation events during conditions of motion and low perfusion1
Measures Oxygen Saturation (Sp02), Pulse Rate (PR), and Perfusion Index (PI)
Optional Pleth Variability Index (PVI®) upgrade available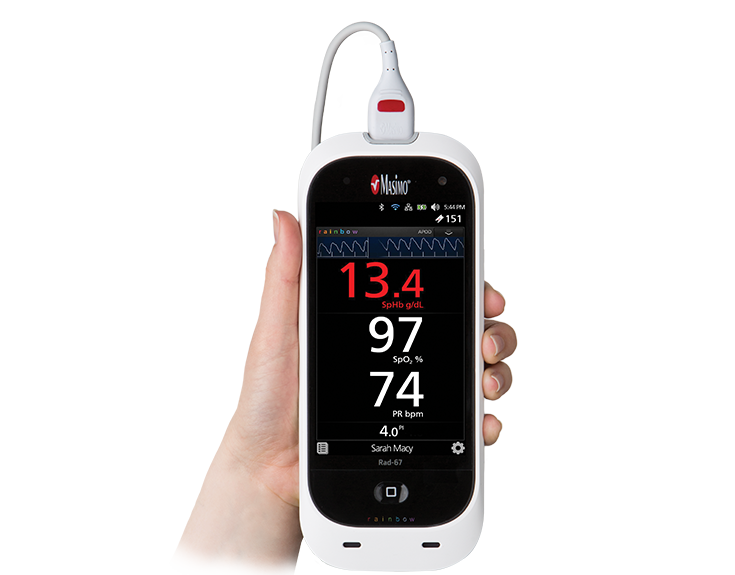 Bright high-resolution, LCDcolor display
Ambient light sensorautomatically adjusts screen brightness, optimizing visibility
Profile iconchanges and home button illuminates in corresponding colors to provide visual indications of the current Profile setting
Rechargeable Li-ion battery, with approximately four hours of power3
Communication Options
WiFi (802.11abg)
Bluetooth®LE
Nurse Call Interface
Ethernet
USB Port
Featuring rainbow SET™ Pulse CO-Oximetry with Integrated Noninvasive Blood Pressure (NIBP) Monitoring in a Standalone Device
Customizable display allows for quick assessment of patient status and provides pertinent data at a glance
Configurable patient profile settings for a variety of patient populations
Connectivity solutions for electronic charting of patient data in the EMR, automated by Patient SafetyNet™* or Iris Gateway®
Upgradeable rainbow SET technology allows for continuous monitoring of multiple additional parameters
Spot-check blood pressure measurements can be taken at any time
Automatic Interval Mode routinely takes blood pressure measurements once every desired interval, eliminating the need to do so manually
Stat Interval Mode continuously measures blood pressure for a desired duration of 5 or 10 minutes
Rad-97 with NomoLine capnography features an integrated sidestream gas analyzer for capnography – meeting continuous Pulse CO-Oximetry and capnography needs in a single device. This Rad-97 model provides continuous end-tidal carbon dioxide (EtCO2) monitoring with numeric, trend, and waveform viewing options, as well as fractional concentration of inspired carbon dioxide (FiCO2) and respiration rate (RR).
Data can be displayed in numeric view or trend view
Real-time EtCO2 waveform provides an easily interpretable display of capnography measurements
Customizable display allows for quick assessment of patient status and provides pertinent data at a glance
Light Emitting Gas Inlet (LEGI) indicator illuminates in different colors to provide visual indicators of capnography module status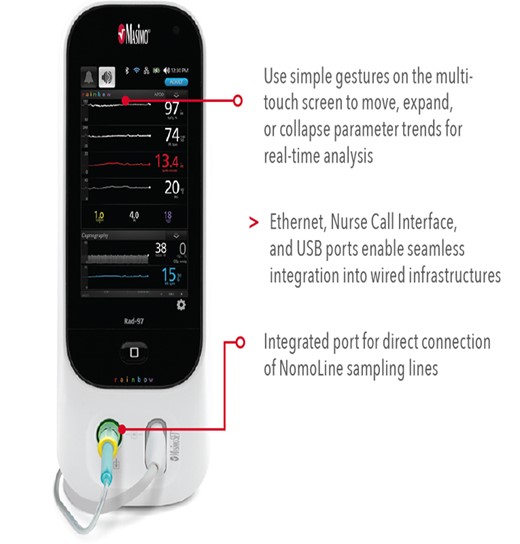 A Rugged Handheld Device Powered by Clinically Proven Masimo SET® Pulse Oximetry
The Rad-G Pulse Oximeter is a rugged, portable, handheld pulse oximetry device with a rechargeable battery and LCD display. Leveraging clinically proven Masimo SET® Measure-through Motion and Low Perfusion. pulse oximetry technology, Rad- delivers a high-quality and reliable monitoring solution that empowers clinicians to quickly assess patients and make informed care decisions even in low-resource settings.
* Reliable Monitoring
Hospital-grade Masimo SET® Measure-through Motion and Low Perfusion pulse oximetry
* Informative Display
Display of pleth waveform for additional information to use in patient assessment
* Alarm Management
Configurable alarms to offer insight into patient status changes that may require intervention
Clear, continuous capnograms of carbon dioxide values
Simple, easy-to-use interface for quick set-up and one-touch programming
Audible and visual alarm system for No Adapter, Clogged Adapter, No Breath (Apnoea), Low Battery and adjustable High and Low EtCO2 alarm
Long battery life up to 10 hours of normal use with two standard AAA lithium batteries
Featuring Masimo SET® Measure-through Motion* and Low Perfusion™ Pulse Oximetry and Noninvasive Total Hemoglobin (SpHb®) Spot-check Monitoring
More Than a Conventional Pulse Oximeter
Noninvasive SpO2 and SpHb Spot-check Monitoring
Rad-67's ability to provide portable spot-check monitoring measurements of both oxygen saturation and noninvasive hemoglobin makes it a single-device solution in multiple clinical and non-clinical settings, such as emergency rooms, pre-/post-surgery settings, and physicians' offices.
When used with the rainbow® DCI®-mini sensor, Rad-67 provides spot-check monitoring with Next Generation SpHb technology. This technology significantly advances the forefront of noninvasive portable hemoglobin spot-check monitoring.
Value of SpHb Monitoring
SpHb can be used in conjunction with traditional laboratory methods to obtain real-time visibility to changes, or lack of changes, in hemoglobin between invasive blood samples
SpHb trend monitoring may provide additional insight between invasive blood samples when:
The SpHb trend is stable and the clinician may otherwise think hemoglobin is dropping.
The SpHb trend is rising and the clinician may otherwise think hemoglobin is not rising fast enough.
The SpHb trend is dropping and the clinician may otherwise think hemoglobin is stable.
Oxygen saturation ( Sp02) and Pulse rate ( PR) : Masimo SET® pulse Oximetry helps clinicians to measure SpO2 and PR accurately, even during motion and low perfusion.
Several studies have shown that Masimo SET® out pertorms other pulse oximetry technologies, providing clinicians with unmatched sensitivity and specificity to make critical patient care decisions.
Perfusion index ( Pi) : Perfusion index helps assess patient's peripheral blood flow.
Pleth Variability Index ( PVi®) : PVi helps clinicians to assess fluid responsiveness of patients and help guide fluid management in mechanically ventilated patients
Total Hemoglobin ( SpHb®) : Non-invasive continuous Hemoglobin monitoring provides realtime visibility to changes in patients. hemoglobin levels. Several studies have shown that continuous monitoring of SpHb may help clinicians reduce blood transfusions in both low and high blood loss surgeries
PVi and SpHb Support Clinicians in Improving Patient Outcomes
A single-center quality initiative involving 18,716 patients in the OR, ICU, and PACU was implemented in Limoges, France. The study used a Goal-directed Therapy (GDT) protocol with PVi in conjunction with a blood transfusion protocol based on SpHb. Results demonstrated that monitoring with SpHb and PVi integrated in a vascular filling algorithm was associated with earlier transfusion and reduced 30- and 90-day mortality by 33% and 29%, respectively, on a whole hospital scale.
Several studies have shown that continuous monitoring of SpHb may help clinicians reduce blood transfusions in both low and high blood loss surgeries.
Masimo ROOT with Regional Oximetery
Available for Adult, Pediatric, Infant, and Neonatal Applications
May help clinicians monitor cerebral oxygenation in situations in which pulse oximetry alone may not be fully indicative of the oxygen in the brain
Seamlessly integrates with the Root platform alongside SedLine®Brain Function Monitoring (available for adult and pediatric patients) for a more complete brain monitoring solution
The Root patient monitoring and connectivity hub offers plug-and-play monitoring with Masimo Open Connect® (MOC-9®) modules.*
Apply the appropriate O3 sensors to the forehead:
Adult Adhesive Sensor (≥40 kg)
Pediatric Adhesive Sensor (≥5 kg and <40 kg)
Infant and Neonatal Adhesive Sensor (<10 kg)
Connect the O3 sensors to an O3 MOC-9 module (up to two sensors per module).
Connect the O3 MOC-9 module to one of three Root MOC-9 Ports.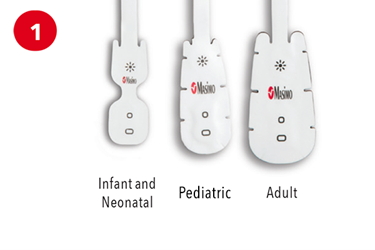 A More Complete Picture Starts with More Complete Data
Root® with Next Generation SedLine Brain Function Monitoring helps clinicians monitor the state of the brain under anesthesia with bilateral data acquisition and processing of electroencephalogram (EEG) signals.
Next Generation SedLine Features:
Four simultaneous channels of frontal EEG waveforms
An enhanced Patient State Index (PSi), a processed EEG parameter related to the effect of anesthetic agents
A Density Spectral Array (DSA) display, which contains left and right spectrograms representing the power of the EEG on both sides of the brain
An optional Multitaper DSA, which may enhance visibility of EEG features
The Next Generation SedLine module easily plugs into the Root patient monitoring platform via Masimo Open Connect® (MOC-9®) ports. Root's customizable, easily-interpretable display offers multiple views of brain monitoring information expanding visibility in the operating room and intensive care unit.
Supplemental Remote Monitoring and Clinician Notification System
Patient SafetyNet is a supplemental remote monitoring and clinician notification system which displays near real-time information from any connected Masimo or third-party device at a central station and allows alarms and alerts from bedside devices to be sent directly to clinicians.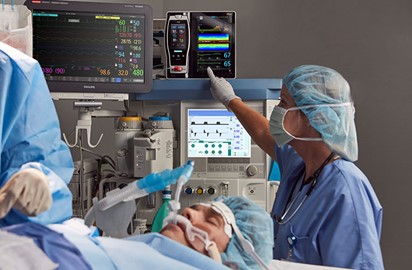 Bedside Device Connectivity
According to the Anesthesia Patient Safety Foundation (APSF), post-operative patients should have oxygenation monitored by continuous pulse oximetry. Using industry-leading Masimo SET® pulse Oximetry and upgradable Pulse CO-Oximetry measurements; Masimo bedside devices provide noninvasive and continuous monitoring of oxygen saturation, pulse rate, respiration rate, total hemoglobin, and other clinically valuable measurements.
Customizable Central View Station
Patient SafetyNet allows clinicians to monitor up to 200 patients from a central view station. The configurable display allows clinicians to view the status of up to 40 patients at a glance, as well as investigate alarms and dive deeper into trend data.
Real Time Clinican Noticifications
Patient SafetyNet sends actionable patient alarms directly to available clinicians, with automatic escalation, helping facilitate quick patient assistance.
Patient SafetyNet sends actionable patient alarms directly to available clinicians, with automatic escalation, helping facilitate quick patient assistance
Configure alarm thresholds and delays by patient population to manage alarms
Clinician is notified remotely of alarm at the bedside
If primary clinician does not respond, the alert is escalated to additional clinicians
Intelligent Display for Next Generation Data Aggregation and
Alarm Visualization
 UniView aggregates data and alarms from multiple Masimo and third-party devices – such as patient monitors, ventilators, anesthesia machines, IV pumps and others connected through Masimo systems on a supplemental display
Integrated real-time data visualization reduces cognitive overload and promotes data sharing among multiple clinicians, enabling them to spot trends and coordinate care
Visual alarm indicators, relayed from connected devices, help care teams recognize patient distress and target areas for clinical focus
Integrated Display of Patient Data
Powered by a robust connectivity platform, UniView aggregates patient data from multiple sources for visualization on a single integrated display.

Powered by a robust connectivity platform, UniView aggregates patient data from multiple sources for visualization on a single integrated display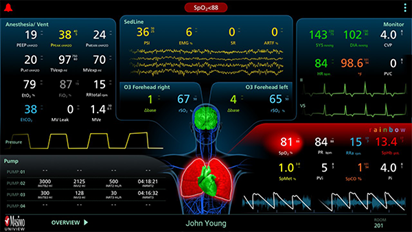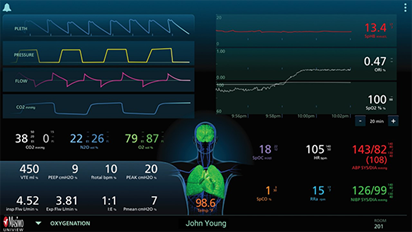 Use-case-specific screen layouts allow clinicians to view the most pertinent data applicable to a clinical care team
Overview Layout
Adaptable layout automatically reconfigures based on connected devices to optimize the view of parameter data, including waveforms and alarms, for an overview of patient status
Hemodynamics Layout
View trend data for noninvasive hemoglobin (SpHb®), pleth variability index (PVi®), and pulse rate (PR) to aid in visualizing a patient's status over time
Oxygenation Layout
View ventilator waveforms alongside noninvasive trended hemoglobin (SpHb) and oxygen saturation (SpO2) to monitor a patient's oxygenation status
Sedation Layout
View high-fidelity EEG waveforms, patient state index (PSi), and anesthesia machine data to monitor a patient's depth of anesthesia
Legacy VIO 3
OverView of Erbe Vio 3
 * Logical, convenient and visual operator guidance (stepGUIDE)
* Reliable, reproducible tissue effects thanks to state-of-the-art processor technology
* ReMode: up to 6 different settings selectable from the sterile field
* Sockets: easy replacement, connection recommendations, slot assignment, up to 6 instruments freely selectable
ERBEJET 2
Overview of ERBEJET 2:
* Gentle on blood vessels, nerves and organs
* Minimized bleeding, controlled management of bleeding
* High degree of tissue selectivity during preparation and dissection of tissue layers
* Needeless high-pressure elevation to create a fluid cushion
* Good visibility at the operative site due to integrated irrigation and suction
* Saves time overall in the OR
IES 3 Smoke evacuation unit
Overview of IES3 :-
* Protection through ULPA-15 filter
* Good response, quiet operation
* Extended range of applications
* Flexible activation
NENASim is the world's most realistic baby simulator. NENASim was devised to complement realistic multidisciplinary team and/or individual baby patient simulation training.
NENASim offers an ideal training solution for a wide range of healthcare professionals, including but not limited to patient care, emergency medical intervention and resuscitation training for dynamic team or individual training. NENASim infant is available in various degrees of fidelity.
NENASim HPS Xtreme FEATURES
– Perfect for training medical professionals, especially NICU-departments.
– Intubation through the anatomically realistic airway, Stethoscope simulator: detects location and emits suitable isolated sounds.
– Realistic skeleton, recognizable landmarks, accurate movement degrees, with a durable soft skin.
– Movement of limbs, head, eyelids, heart beats and breathing movements.
– Measurable effectively and results of CPR. Pulse detectable in various places; axillary and femoral.
– Various parameters output on the patient monitor: ECGs, Sp02, CO2, ABP, CVP, PAP, PCWP, NIBP and TOF.
– Full scenario training: ready-made and user- friendly customizing, with strong feedback and review components. Ideal for individual skills-training and team training.
– A wide variety of vocal sounds: laughing, crying, hiccups, coughing, grunting and breathing.
– Full simulation of breathing patterns with different rates, depths and complications.
– Colorization of the skin in the cheek, chin and extremities, to simulate conditions like cyanosis, jaundice, paleness and redness.
– Wireless and tetherless control: able to be used everywhere