With its logical and simple interface, the VIO 3 is made to be as user-friendly as possible. 1. The surgeon always has a clear view of all control elements from the operating field thanks to the size of the touchscreen display. As your stepGUIDE, VIO 3 offers direction by recommending tried-and-true beginning points used in a variety of clinical applications. Less setting adjustment or modification occurs as a result.
Rapid acess to the required program using the guided navigation of stepGUIDE.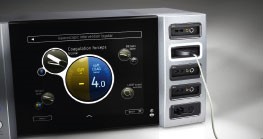 Based on pre-programmed settings the stepGUIDE supports you in selecting a socket for your chosen instrument.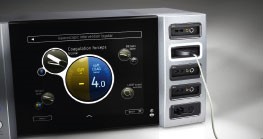 The active slot and the instrument in use are shown on the display and through the illuminated socket frame.
Foot pedal, AUTO STOP and AUTO START assignment using drag and drop.
VIO 3 has the right mode for your application, supporting monopolar and bipolar techniques and our proprietary hybrid technology – a combination of different technology.
The right modes for your application adapted to your instrument selection
Adjusting the selected mode has never been easier via the effect setting
Advanced measurement technology, Consistent cutting and coagulation effects
VIO 3 responds to parameter changes in the tissue immediately regardless of the electrode shape or incision technique
preciseSECT
Low-smoke exposure
Dynamic adjustment of the modulation frequency makes this new mode ideally suited for exposing structures. preciseSECT facilitates rapid and effective coagulation with limited tissue-separating properties, in combination with less development of smoke and carbonization2.

thermoSEAL
Rapid vessel sealing
With the new AUTOSTART, thermoSEAL is twice as fast as the BiClamp mode3. And this mode permanently measures the tissue parameters while sparing lateral tissue. This makes thermoSEAL ideal for sealing tissue bundles and vessels using our instruments as well as for coagulating bleedings extremely efficiently.
highCUT bipolar
Bipolar resection
This new mode has been optimized for bipolar resection in a saline solution. The power peak system (PPS) enables rapid incision. The stable plasma facilitates rapid cutting5.
softCOAG
Accelerated coagulation
Now with QuickStart5: in the case of bipolar and monopolar softCOAG, a short pulse of energy on contact with tissue results in accelerated coagulation.