Our flexible cryosurgical technology has been adopted in medical practice for more than two decades and continues to evolve in therapeutic and diagnostic applications in pulmonology. Routine clinical applications include cryoextraction and cryodevitalization. an evolutionary step in interventional pulmonology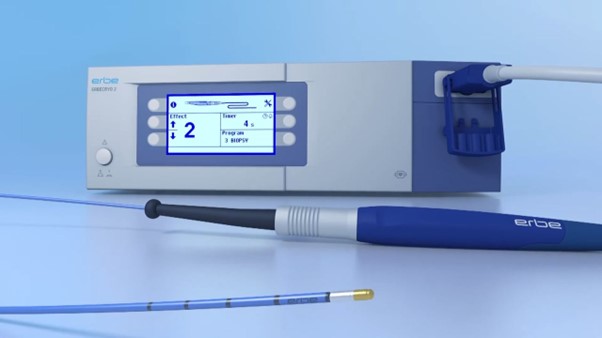 allows for the removal of tissue biopsies, blood clots, tissue tumors, necrotic tissue, mucus plugs, foreign bodies, and mucus plugs (palliative recanalization).
facilitates the use of extremely cold temperatures to tissue damage.
Based on our most recent knowledge of flexible cryotechnology and reinforced by decades of our hands-on experience in cryosurgery and cryotherapy, the new ERBECRYO 2 and accessories were created.
The ERBECRYO   2 offers a number of additional features that are designed to increase user convenience during clinical procedures and promote cutting-edge clinical outcomes.
The flexible single-use probes and ERBECRYO 2 unit represent the advancement in Erbe cryo technology that is focused on increased reproducibility.
Plug and operate – system communication
Once attached, the system instantly determines the cryoprobe's size. The flow control then chooses the appropriate parameters based on probe size for the best freezing outcome. The footswitch and gas bottle connections are additionally continuously observed.
Error management – system feedback
Real-time troubleshooting is made feasible by the plug-and-operate design, which fixes connection issues, gas flow issues, and other potential unit problems. The flow control can identify unit and probe issues, assisting in determining the cause of failures.
Timer – clinical standardization
The timer gives feedback on the freezing time visually and audibly. This encourages consistency and reproducibility because the freezing time affects the target tissue effect greatly.
Design – improved convenience
The improved socket design enables one-push connecting of the cryoprobes. The user is provided with a summary of all significant functioning parameters via the digital display.