NIRAMAI (A Novel Breast Cancer Screening Solution). suits females of all categories. In contrast to conventional techniques or self-examination, NIRAMAI has created a novel software-based medical device to identify breast cancer at a much earlier level. It is HIGHLY ACCURACY, PRIVACY SENSITIVE, NON-INVASIVE, AND RADIATION FREE.
The main component of the NIRAMAI system is Thermalytix, an artificial intelligence-powered computer-aided diagnostic engine. A high precision thermal sensing device is used in the solution, and the thermal is analysed using cloud-hosted analytics software. For dependable, early, and accurate breast cancer screening, a SaaS solution has been created using big data analytics, artificial intelligence, and machine learning.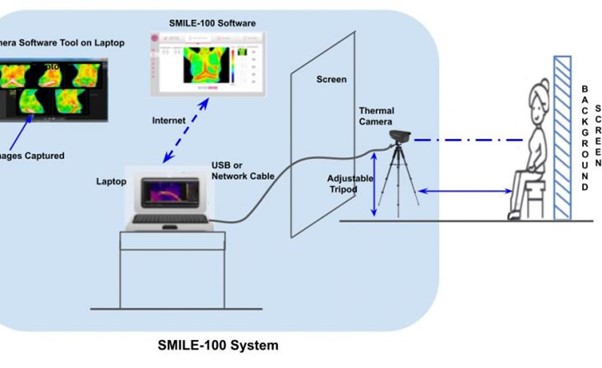 The main cause of cancer-related deaths in women today is breast cancer. One in every seventeen women experiences breast issues at some point in their lives. The secret to survival is early detection.
Breast cancer screening is crucial to aid in the early detection of breast cancer. Early detection is crucial because it can help save a patient's life because breast cancer is simpler to treat at an early stage, even before there are any signs or symptoms of the disease.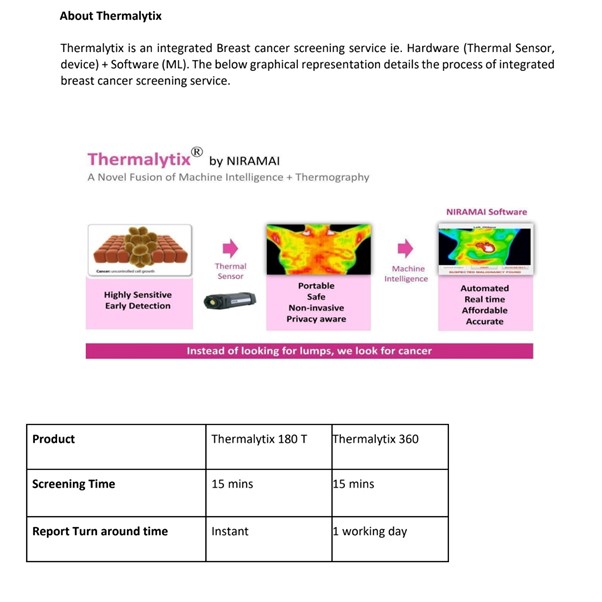 Instructions Before Conducting a Breast Thermal Scan
Three hours before the test, refrain from doing yoga, getting a massage, or engaging in any vigorous activity.
On the day of the test, stay away from applying lotions, creams, deodorants, powders, or makeup to the breast or underarms.
For 24 hours prior to the test, refrain from any physical activity, mammography, ultrasound, or treatments to the breast, chest, neck, or back.
No bathing less than an hour prior to the test.
One hour prior to the imaging, no coffee or other hot beverages or food may be eaten.
The patient can continue to take all previously given medications, but should give the technician a list of those drugs and supplements prior to the test.